Most of the breeding policies around the world allow females with a score of "very good" to be eligible for breeding; we perfectly understand the legitimacy of such action. We feel that this practice should be more restrictive due to a large population of GSD around the world.
The vom Derby Holland Land imposes the higher self-restrictive requirements and standards on it's breeding practices; we use only top V and VA rated males regardless of distance, expense or time. We aspire to be the best, ahead of everyone else whose breeding restrictions and evaluation of brood bitches do not meet our standards and complex evaluation of GSD.
The policy of vom Derby Holland Land Kennel clearly spells out:

1. For the purpose of improving anatomo-morphological and working qualities of the dogs, the selected females must have scores of at least "excellent" and a working diploma and title. The minimum requirement for a female is SchH 1; and KKL 1; V-rated.
2. Dentition of the dogs must be complete...No missing teeth in any combination; front teeth (incisors) have to be aligned in one line; scissor bite is a must; all teeth must be large and white. Dogs with yellow and damaged enamel or missing teeth in any combination are recognized as defective and unsuitable for breeding (such animals would be spayed and sold as pets).
We impose the highest standards and strictest requirements for the stud dog. The potential stud dog must reflect a healthy genotype, possess superior anatomical, morphological and outstanding working qualities, mental health, and stability. The courage of such stud dog has to be clearly pronounced--No compromise in this regard! His titles must be:
SchH 3; KKL 1; V or VA-rated.
His offspring must have the highest percentage of animals receiving V and VA rating scores. Such stud dog has to be a "prepotent", which means he has an ability to pass his outstanding, distinctive phenotype and working qualities to his offspring. One of the relatively simple explanations of these biological phenomena is that such male has a higher percentage of homogenous gametes which are responsible for manifesting certain outstanding features of a stud dog. Genes of such gametes have an ability to dominate over some phenotypical features of the dam and to some degree suppress and compensate impact of dam on her offspring.
The breeding process always means selecting and inadvertently eliminating. Therefore, for the purpose of improving conformation and working qualities of the GSD, we have established a "Perspective Breeding Plan" for five years and an "Annual Plan" for one year. These plans describe:
· History and evaluation of existing stock foundation.
· Merits and parts of the dog's body which needs improvement.
· Description of existing constitution and types of nervous systems.
· Criteria for choosing a stud dog.
· Type of breeding (Level of inbreeding or outcross).
· Conclusion.
These plans help us to:
1. Concentrate on the most crucial area of improvement.
2. Critically approach our selection and breeding program.
3. Create a breeding vision of the dog we are trying to achieve.
4. Choose a limited method of selection and breeding for the following years which clearly defines and establishes our breeding goals.
5. Use all available resources to successfully fulfill breeding tasks.

Our goals:
Below you will find some general breeding goals with each task having their own classification. Send an email to danlevin@charter.net if you are interested.
In vom Derby Holland Land Kennel we attempt to develop, retain and improve the most valuable features of German Shepherd Dogs, such as:
1. Structural soundness.
2. Mental stability.
3. Strong nervous system.
4. Trainability.
5. Performance in Schutzhund trail.
6. Improve general conformation/morphological qualities.
7. Select, maintain and develop "productive" constitution.
The features lited abobe are an absolute must in order to satisfy the breeding policy and ethics of the vom Derby Holland Land Kennel.
We strongly believe that collaborative efforts of GSD breeders in the development of sound and contemporary population will help achieve the desirable results providing moral satisfaction for prospective owners and breeders all across the country.

Our Pledge
· Reduce number of dogs possessing inherited diseases.
· Produce dogs of highest conformation and working qualities.
· Improve biological health, dentition and constitution of the German. Shepherd dog by rigid process of selection of such breed.

News

World-class West German show bloodlines puppies are available to satisfy the most discriminated taste of the German Shepherd dog's enthusiast and families with children.


Puppies born July 15th, 2018
and will be available starting
September 10th.

PLEASE CALL FOR DETAILS
978.650.1415

still able to fill a basket 15 days old
V21 NATAN GELEZINIS VILKAS
SZ 0011755, 1928, WT 18.09.1998
He received his title V 21 under judge Peter Mebler in Bundessieger show in Karlsruhe 2002, Germany. VA 3 in Belgium
VA-1, SchH 3, KKL 1, "a" normal
Hooper, one of the prominent male in the Western hemisphere, is a leading influence on population of the German Shepherd in the United States.
Koerbericht by Koermeister Brauch:
Large,strong and substantial,very well-pigmented male with correct proportion. High withers,firm straight back,very good length and position of the croup.Appropriate chest proportions, correct front. He moves straight(correctly), far outreaching,strong movement with very good,effective rear drive and free front reach.Character is sure,TSB pronounced, does release.
Sire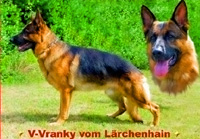 Vranky is a large, strong, young male with incredible substance and the most beautiful strong masculine head. His temperament is the perfect example of the breed standard in addition to the strong drive exemplified in his powerful gait and bite work. His rich black saddle and deep dark red pigmentation only enhance his breeding qualities. He is very typey of his sire 1998 VA-3 Leif von der Noriswand and his top producing mother V-1 Tina von Arminius. Vranky is half brother to top producer Hoss vom Larchenhain and carries the lines of VA Jeck and VA Mark.
Dam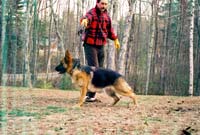 see Ninale vom Godinghofer Weg pedigree
see Ninale vom Godinghofer Weg Koerklasse 1 (Kkl1 especialy recomended for breeding)